Slime Fantasies Growing with ReadySpaces
Who is Slime Fantasies?
Slime Fantasies is a business started by Tina Turowski, and specializes in creating hand-crafted slimes of all textures and scents. They produce all of their slimes in-house at our ReadySpaces Santa Clara facility, and have grown considerably in the last year.
The Problem
When looking to expand from their current space in their backyard shed, Tina and her business partner were hard-pressed to find a warehouse that catered to their unique needs. They required electricity, access to water, Wi-Fi to fulfill their eCommerce needs, but most importantly, flexible terms and affordable pricing.
The Solution
As a newer business, Tina was unsure about committing to rigid long-term contracts, due to the many variables in a startup environment. When asked what the best part of her experience with ReadySpaces was, Tina mentioned a few things, "It did give my business the opportunity to grow. We are in Silicon Valley, and everything is expensive around here… ReadySpaces was affordable. Otherwise, there would have been no way for me to grow my business without getting a loan or financial assistance."
Her business was able to find a customizable space that could grow with their needs, and that's exactly what they found after moving in.
The Slime Fantasies team was also able to embrace the community aspect of the facility, "Everything we need is here, including the community aspect. We have met so many people around here. If we need anything, we know there are people around that can help us. It's the same way [the other way around], because sometimes people come to us, and we can help them out with stuff too."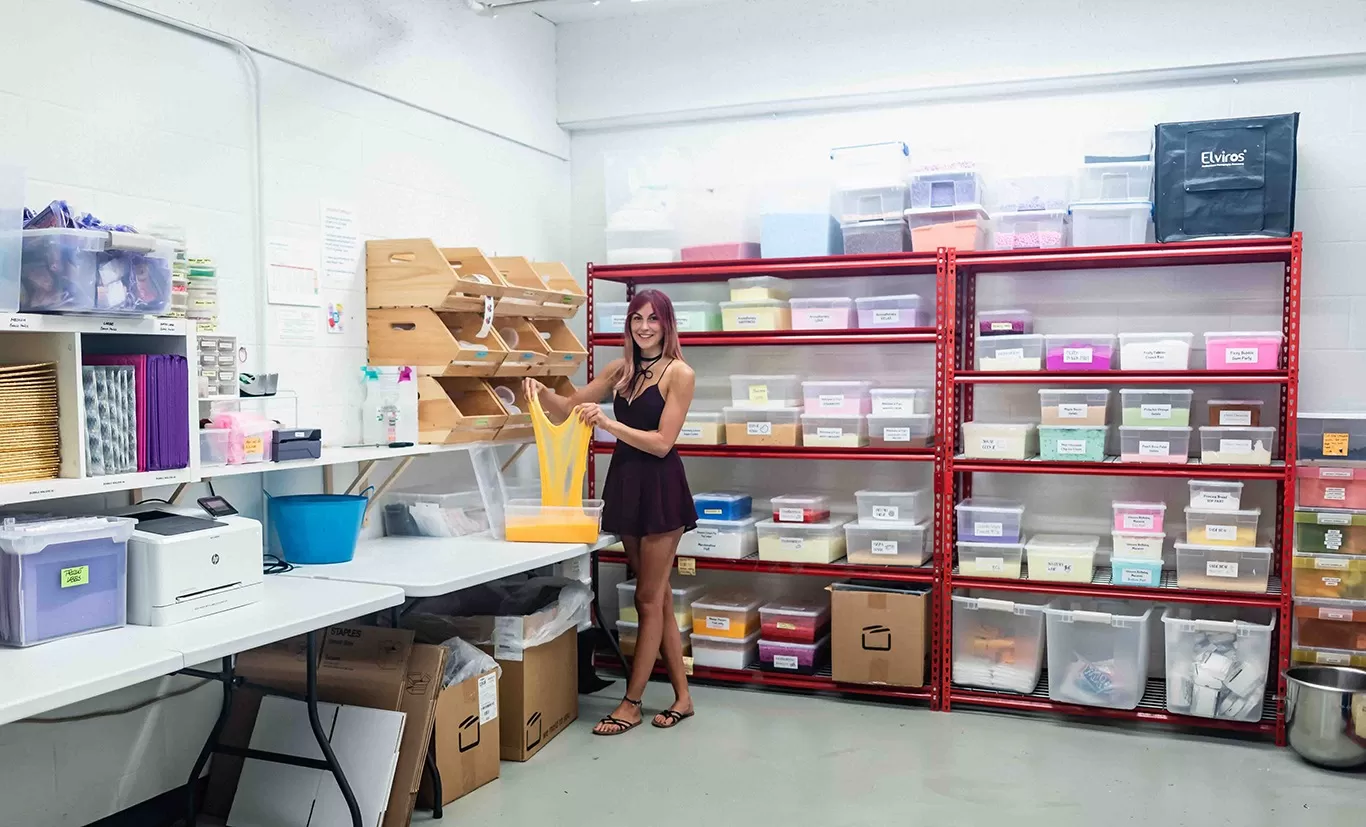 The Result
Since starting with ReadySpaces (then CustomSpace) back in 2018, Tina has grown her business considerably, bringing on new employees, as well as doubling her presence in the facility to over 650 sq ft to keep up with demand.  Over the course of the last year, Tina was also able to expand the Slime Fantasies brand, amassing a large social media presence through their Instagram and TikTok channels (@slime.fantasies).
To shop Slime Fantasies visit their website: https://slimefantasies.com/ 
Follow Slime Fantasies:
Instagram: @slime.fantasies
TikTok: @slime.fantasies