Business Use Cases
When it comes to lease terms, ReadySpaces provides unmatched flexibility and convenience. We welcome businesses looking for short-term or temporary storage and proudly work with companies that have been with us for years (and hopefully more to come).
We are also able to offer a vast range of sizes of warehouse space. Our facilities have spaces available from small (as low as 200 square feet) to large warehouse space (up to 10,000 square feet) and everything in between. Our range of sizes is especially valuable for businesses that plan to experience large amounts of growth; with ReadySpaces, you will have the option to expand your space as you grow (*as availability permits).
Industrial Workspace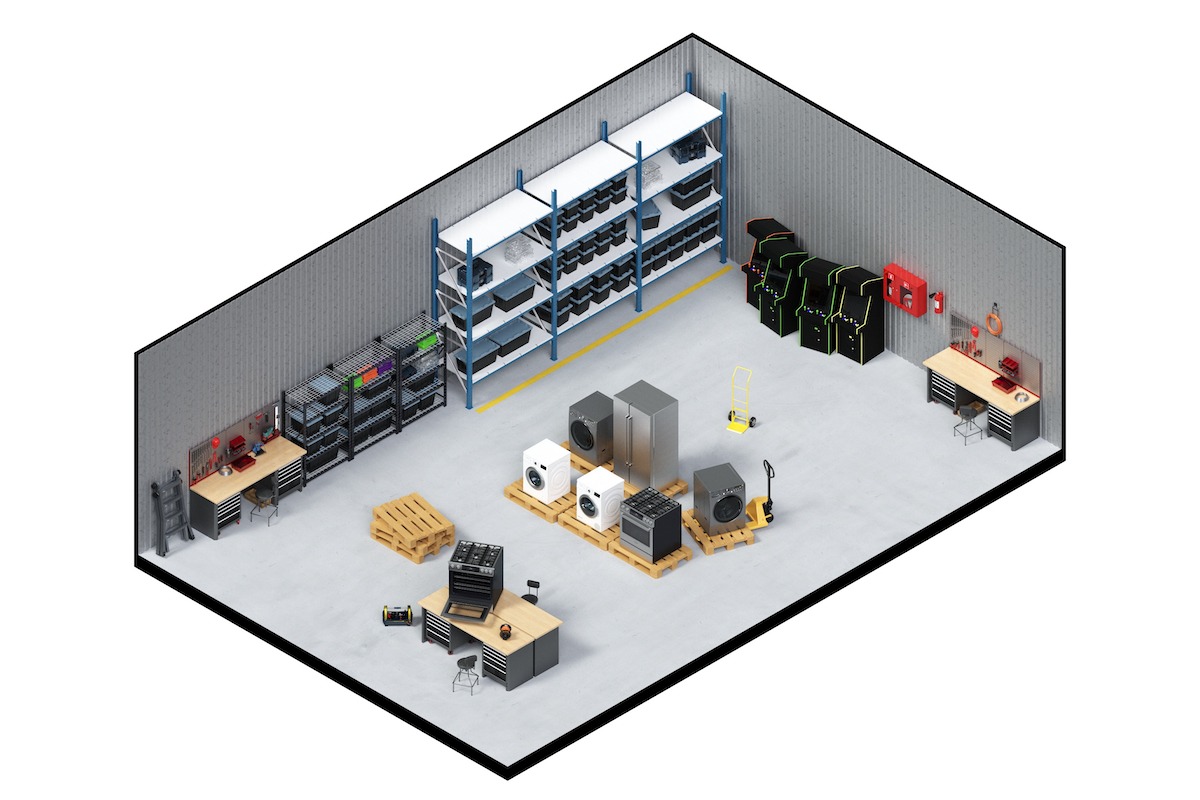 Light Manufacturing, Packaging & Assembly, and R&D
ReadySpaces offers a unique, customizable, industrial workspace perfect for makers and businesses with hands-on processes. Light manufacturing, packaging & assembly, product repair, and R & D businesses have all found homes at a ReadySpaces facility.
Companies who are looking for light manufacturing space will find our spaces secure and utility-friendly. Our units include power outlets and additional electrical wirings to house various machines, large and small. You are also welcome to install racking in your unit to maximize your production floor.
Businesses who need space to assemble and package products can rest assured that their team and goods are safe, with our 24/7 video surveillance standard across our facilities. Additionally, when it comes time for your products to be shipped out, you can do so right from our loading docks.
ReadySpaces is also great for companies doing research and repair work. Our warehouse and office spaces are a great place to focus whether you are restoring art, looking for a creative space to experiment, or researching and designing a new business idea, all while keeping everything in a dedicated space.
Whether you're a large business or looking to start up, our flexible terms make getting started with your industrial workspace hassle-free.
Technology
Rest assured that everything you need for your latest project has a safe and secure home. Whether creating new hardware products or tinkering and innovating, we understand the importance of security and organization to keep your workflow smooth.
Textiles & Apparel
When working with fabric daily, things can get complicated, and without the proper production space, it only adds to the pressure of getting your products out the door on time. Our warehouse units are fully customizable. You can design your dream production floor to prep, pack, and ship your products at a moment's notice with our facility forklifts/pallet jacks and loading docks.
eCommerce & Logisitics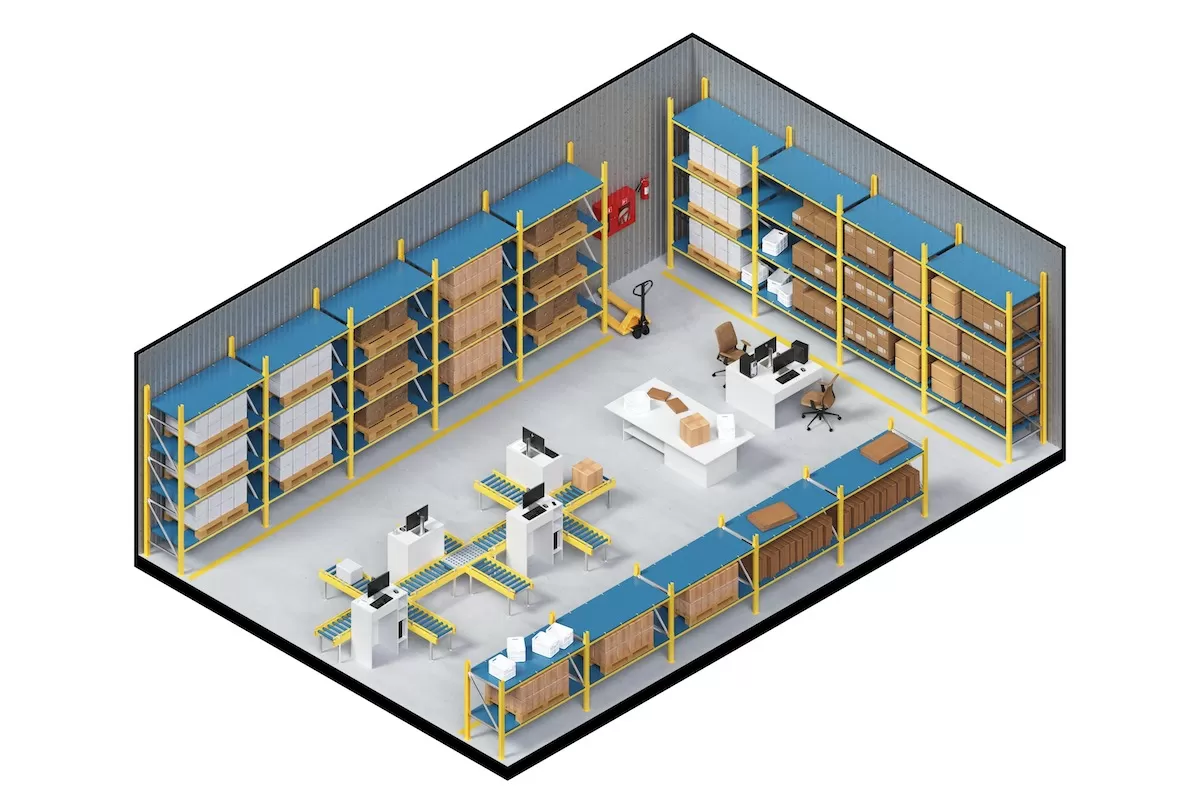 It's no coincidence that we work with hundreds of top e-commerce brands. Tailored for e-commerce distribution – electrical power and facility-wide WiFi are available so you can set up your computer and packaging equipment in your space. Each building has a dedicated outbound package zone for your shipments, and you can accept incoming deliveries, too, from single-piece boxes to full-size shipping containers. Forklifts, carts, and other equipment make moving your products easy. ReadySpaces infrastructure simplifies your logistics so you can focus on your business.
eCommerce Warehouse Space
One of the biggest problems with a growing e-commerce business is that growth may mean having to incur increased shipping costs depending on where your new customers are. ReadySpaces has locations all across the country, allowing for streamlining your shipping process and cutting down shipping time for customers that may be outside your current area. Also, with our flexibility in unit size, this is a great way to test out a small space in a new market before jumping in.
For owners looking for a quiet place to work or wanting to expand their team, we also have office space available at most locations. With an on-site mail service for all members on top of that, you can run your entire business operations from a ReadySpaces location.
Distribution & Wholesale Space
ReadySpaces works with numerous distributors in various industries; food & alcohol (beer, liquor, wine) suppliers, import/export businesses, electronics, and other wholesale goods.
We have years of experience working with these businesses, and our facilities support your logistical needs. Tired of paying a liftgate fee each time you receive an incoming inventory shipment? With ReadySpaces, every unit has access to loading docks, saving you money on shipping costs, and forklift access makes unloading a breeze.
Logisitics
Tight deadlines and plenty of moving parts can be challenging, and without a reliable way to ship out when you need to, it can only add to the pressure. That is why all our units have 24/7 access to our facility loading docks, both high and grade level. So, no matter what your shipment is, big or small, perishable, non-perishable, or delivery deadline, we have you covered.
Overflow Space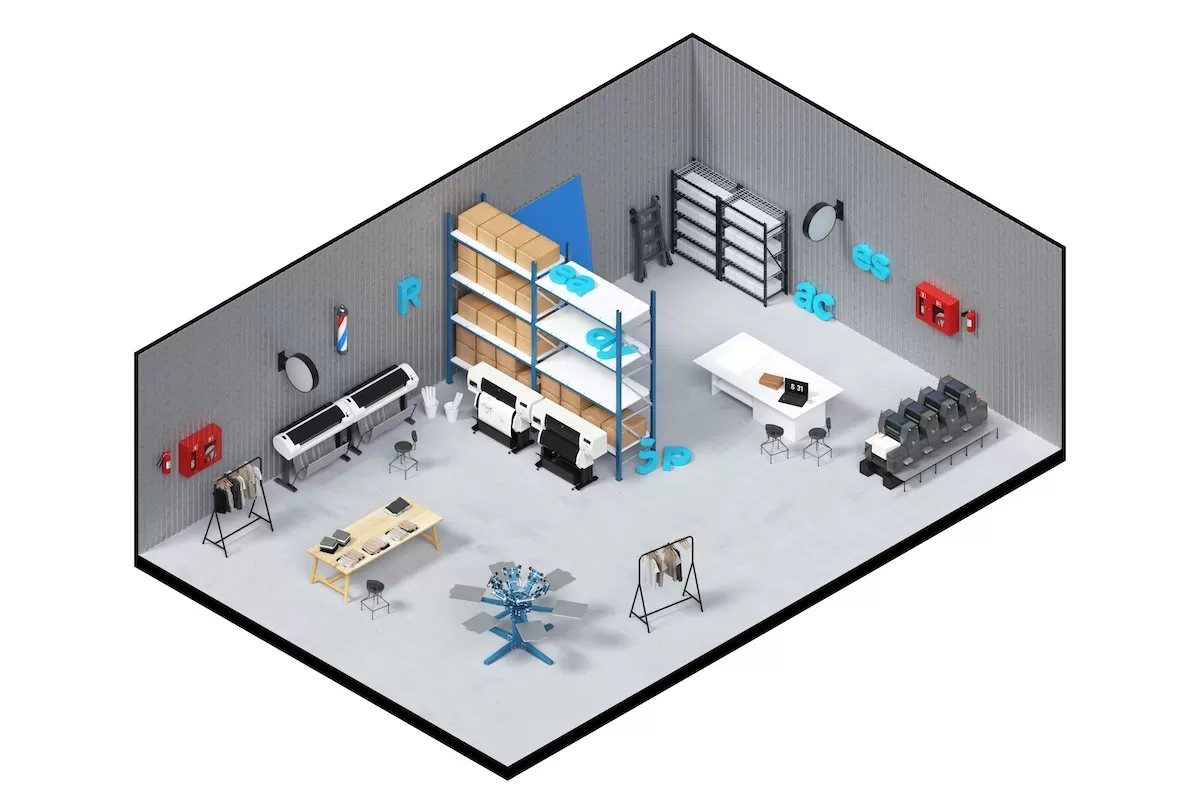 Is your business growing much faster than you first expected? Or do you need short-term storage space? We can accommodate your needs with flexible terms, whether you need three days, three weeks, or three months. Plus, forget the lengthy lease negotiation. You can move into ReadySpaces today – our terms are short, simple, and standardized, so you can secure your space with minimal delay. Our leases are flexible, giving your business the freedom to navigate uncertain times. We're here to support your business regardless of your reason for needing temporary or long-term storage.
Commercial Storage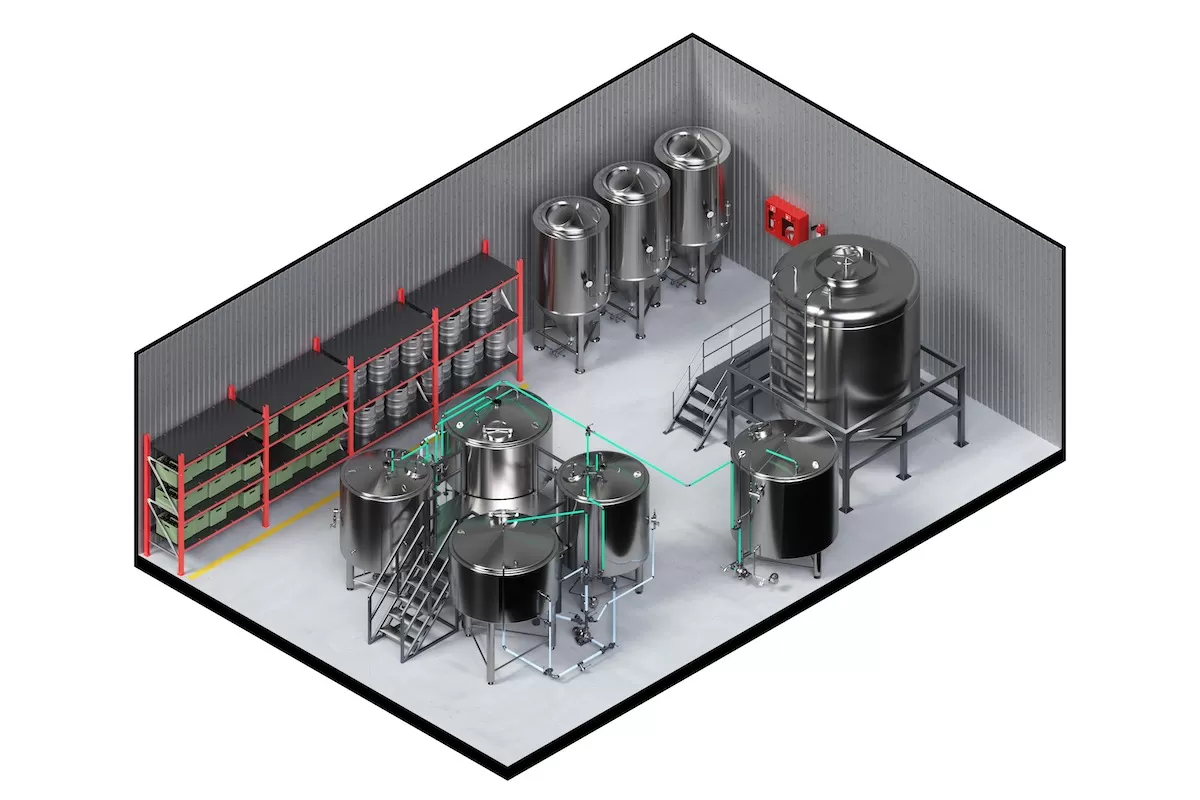 With ReadySpaces, we provide warehouse space for commercial storage and the added benefit of running the administrative side of the business from that space (WiFi throughout our buildings and power in all units).
Contractor Storage
Contractors will find ReadySpaces a perfect fit for operating their business. HVAC, plumbers, electricians, and many other traditional companies need space to run their businesses. Our units will accommodate bulky materials up to 7′ 6″ wide by 12′ tall and more* (*Certain Locations).
Our spaces are also accessible 24/7, so you can come and go whenever your business (and jobs) require it. Even better, in specific areas, you can operate power tools to cut pipes, wood, or other material you may need on the job site.
If you need to store work vehicles overnight, most of our locations have available overnight parking so you can keep everything in one place. ReadySpaces is an excellent solution for contractors, bathroom/kitchen remodelers, or any other specialty.
Moving Company & Home Staging Storage
Are you tired of operating your moving or staging company from your garage or a self-storage unit? The convenience of loading docks, grade-level doors, and forklifts is undeniable. Premium spaces even provide private exterior docks or doors for maximum privacy, so you have a loading space dedicated to you.
We can also help you install pallet racking in your space to save floor space by stacking furniture on two levels, reducing your costs. Finally, if you have a team to help you load/unload, our break room and lounge are excellent places for your team to rest or have lunch during the workday.
Event Production Storage
Want the perfect space to store event supplies and equipment? Keeping your event assets organized and easy to access can be challenging, regardless of the event's size. Shelving and racks can be set up within our units to ensure everything is right where you need it.
Consumer Services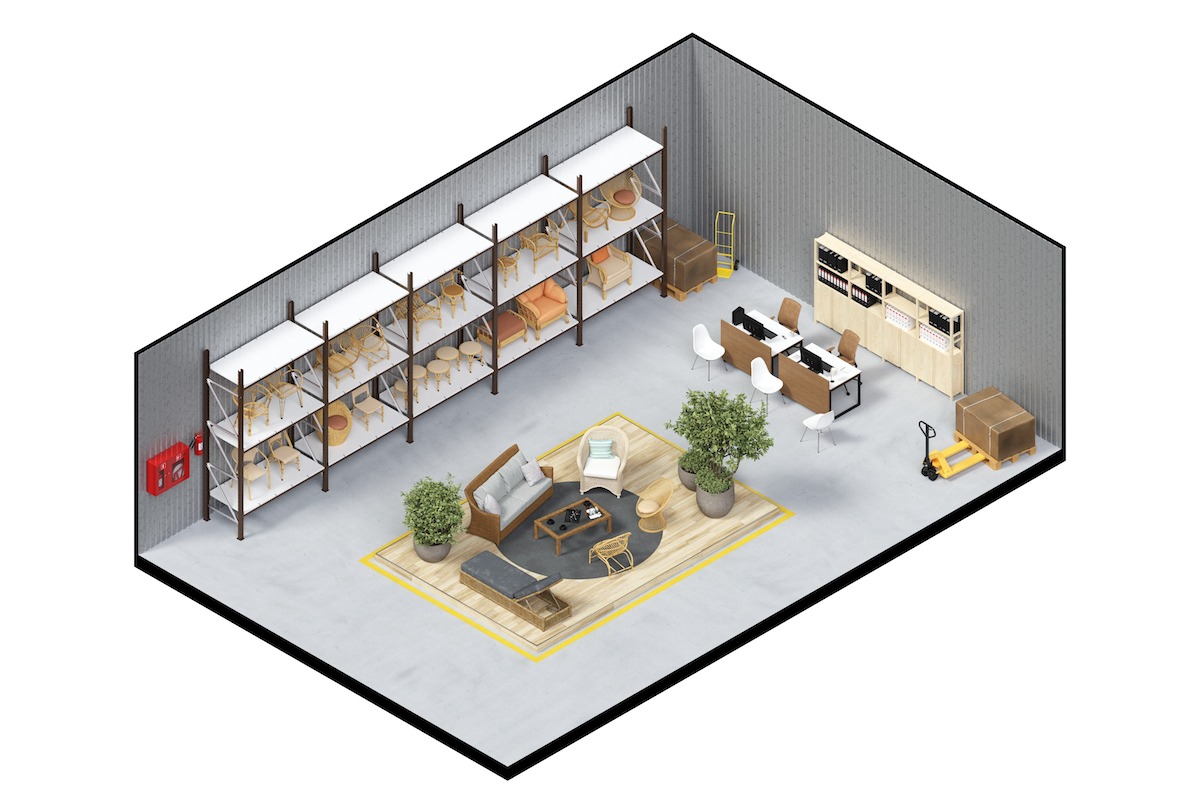 ReadySpaces makes it easy and efficient for you to run your consumer services businesses. With 24/7 access and building-wide WiFi and power included, our secure spaces let you focus on getting more done. We have years of experience working with consumer services companies across various industries, so whether you're looking for a space to expand your business or take your operation nationwide, we are here to help you along the way.
Sports & Recreation
Need a dedicated area to keep your recreational tools, such as sports equipment and gear? ReadySpaces can provide the ideal safekeeping area while ensuring you always know where everything is. We offer storage units of all sizes suited for whatever equipment your company may offer. In some cases, we will also be able to provide racking to maximize your storage space, leaving you with more room to operate within your unit.
Media & Entertainment
Does your company specialize in event production? We understand the need for fast, flexible space that's available at a moment's notice, which is why we offer month-to-month terms that are customizable and always accessible.
Whether setting up a small shoot, a play, or a red-carpet event, our spaces help you move quickly and smoothly.
Non-Profit
We provide you with the necessary infrastructure and have years of experience working with various causes and organizations. Regardless of how small or large your non-profit organization is, our range of available storage solutions will ensure you have the space you need to operate efficiently. Non-profit incentives are also available at most locations.