Flex Space: Hybrid Industrial Space for Businesses with Physical Goods
What is flex space?
Flex Space, a hybrid type of commercial real estate, is usually a combination of warehousing/storage area with some sort of office or showroom space in the same building. For fast growing companies, this type of flexibility allows for further buildout as their space needs can change as the business grows.
In addition, flexible spaces offer more options for individuals who are looking to start a business, while offering lower start up costs and more amenities than traditional warehousing. 
Flex space aims to eliminate long term commitments by offering short term contracts, in some cases month-to-month, which allows businesses to more effectively manage their expenses.
Finding the right space for your business can be difficult, even with the help of a commercial broker. Flex space is a great option for a fast growing business with physical products or equipment that needs storage. Bundling office and industrial space can be a great way to save on building rent, while keeping your operations under one roof.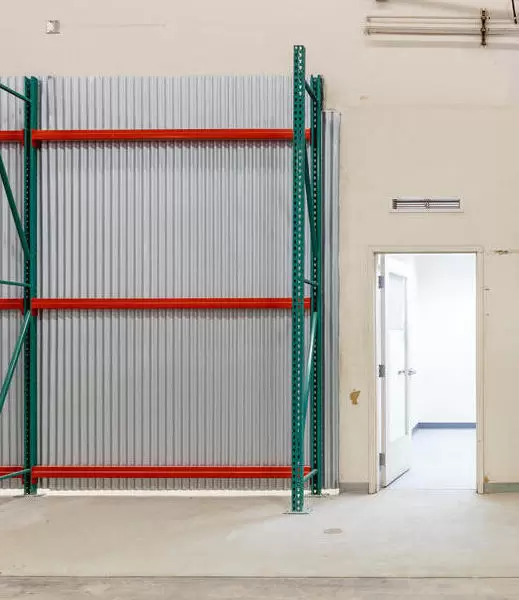 Common uses for flex space
Multi-unit industrial buildings are commonly described as flex spaces since they include both office and warehouse space. 
The combination of office and industrial space has the potential to be a perfect solution for businesses. Especially with the pandemic making an even stronger push for eCommerce, businesses are beginning to look for more storage/warehouse space and less retail space. The need for distribution space has begun to outpace the need for a retail storefront as businesses are selling more online than ever before.
Benefits of Flex Space Vs. Dedicated Office & Industrial Space
The main benefits for businesses to look into flex space compared to office or industrial space separately is fairly straightforward in consolidation of business departments under one roof, one rent payment each month, improved communication between departments in the same building, and the flexibility of expansion as your business grows.

There's no need to ponder where your business will be in a year, or two, or three years down the line. Flex space generally includes flexible terms, so you can focus on your business first. Move-in, size up or down, and move-out with no extra hassle.
Everything you require is included inside one facility, which eliminates multiple payments, and constantly having to check if your rent is paid or not. Whether you're starting a new business, or looking to grow your current business, you can cut down on all of those extra utility fees and sometimes taxes, and still get everything you desire from a workspace with flex spaces.
In most cases with flex space, you are able to house your distribution and administrative teams in the same facility. Consolidated space allows for quicker communication throughout your business, which can help speed up your operation.
Flex space is a great option for small and large businesses alike, and can be specialized to suit your needs. It can be the perfect option for growing businesses that deal in physical goods; whether it be products, parts, pieces, or equipment. Hybrid industrial space allows you keep all of the operations of your business under one roof and adjust your space utilization as the need arises.
To learn more about how you can find flex space take a look at our current locations or reach out to us today.